My very close friend who is a US Army Colonel commented on facebook:
Seems like there is some question as to which main battle tanks to send to Ukraine. In 1965, when I commanded B Company, 1st Battlion/67th Armored, 2d Armored Division at Fort Hood, Texas,5, we had 17 of these M60A1s in our company. They've been replaced by the M1 Abrams. The Army doesn't use these anymore, but they can be as deadly as any tank in service today. Most tankers that I know would agree.
Pic is attached.
Attachment removed
https://www.rand.org/pubs/perspectives/PEA2510-1.html
Discussion of the Russia-Ukraine war in Washington is increasingly dominated by the question of how it might end. To inform this discussion, this Perspective identifies ways in which the war could evolve and how alternative trajectories would affect U.S. interests. The authors argue that, in addition to minimizing the risks of major escalation, U.S. interests would be best served by avoiding a protracted conflict. The costs and risks of a long war in Ukraine are significant and outweigh the possible benefits of such a trajectory for the United States. Although Washington cannot by itself determine the war's duration, it can take steps that make an eventual negotiated end to the conflict more likely. Drawing on the literature on war termination, the authors identify key impediments to Russia-Ukraine talks, such as mutual optimism about the future of the war and mutual pessimism about the implications of peace. The Perspective highlights four policy instruments the United States could use to mitigate these impediments: clarifying plans for future support to Ukraine, making commitments to Ukraine's security, issuing assurances regarding the country's neutrality, and setting conditions for sanctions relief for Russia.
https://responsiblestatecraft.org/2023/01/27/diplomacy-watch-switzerland-weighs-break-with-policy-of-neutrality/
— Russian Foreign Minister Sergey Lavrov visited South Africa Monday as the two countries prepare for joint military exercises, according to the Associated Press. The trip gave Moscow a chance to reinvigorate ties with South Africa, a key Russian partner in "a continent that is divided over the invasion of [Ukraine] and related Western isolation attempts," argued Eleonora Tafuro, a senior research fellow at the Italian Institute for International Political Studies. "[Russian] narratives [about] Western double standards & [patronizing] attitudes resonate well in Africa and speak to the history of the USSR helping anti-colonial movements," Tafuro tweeted. "They are a key part of Moscow's soft power strategy on the continent today."
Switzerland was NEVER neutral in my opinion.
https://www.newsfromtheperimeter.com/home/2023/1/30/air-force-general-tells-his-officers-war-with-china-only-2-years-away
In the memo Minihan explained that because both Taiwan and the US are due presidential elections in 2024, the US will be "distracted," and Chinese President Xi Jinping will have an opportunity to move on Taiwan. He said: "Xi's team, reason, and opportunity are all aligned for 2025."
Russia on the other hand will disable the US military bases in Japan around the same time. I wonder what is going to hold the US Federal structure together now that the whole world knows the Anglo-Saxon bullshit concoction mixed with various spices they stole from India.
https://www.rt.com/news/570752-uk-nuclear-submarine-glue/
UK nuclear sub reactor repaired with super glue – media
The botched job reportedly sparked an urgent investigation as defense chiefs demanded assurances about future work
UK Defence Minister Ben Wallace has reportedly called for an urgent investigation after The Sun revealed that a routine inspection of one of Britain's Trident nuclear submarines found evidence of bizarrely botched repair work.
According to a detailed report by the outlet, workers allegedly used super glue to fix a number of broken bolt heads used to hold together cooling pipes in the nuclear reactor of the HMS Vanguard.
Engineers from defense contractor Babcock appear to have originally damaged the bolts, but instead of replacing the them, they simply glued the heads back on. 
Laughing my a** off!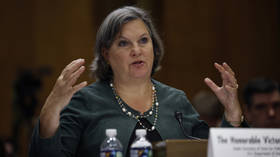 The face of insanity:
https://www.rt.com/news/570531-nuland-senate-russia-sanctions/
There is no cure for her mental illness.